Maximize your online reputation by utilizing our Reputation Accelerator desktop platform, send review invitations from anywhere in the world with our mobile app, or automate your daily invites with our DMS Integration. Capture negative reviews before they go public online with our Negative Feedback filter. Manage and respond to all of your reviews in one place, and take advantage of our detailed, centralized reporting dashboards.
Use our Video Ignition product to gain a higher conversion rate on Internet leads coming in-store by sending personalized videos of vehicles they've shown interest in. Track which employees from your dealership are using the app with our detailed reporting. Create organic and customer-driven content with our Content Fuel product. Show off your success stories from multiple locations and users without the need for access to dealership accounts.
Social Drive includes our fully automated live inventory feed which is updated daily, as well as our automated Facebook Marketplace solution for your pre-owned inventory. Customers can contact your dealership with one click; leads are emailed to you and loaded into your CRM in real-time.
Compare Packages
Set Up a Demo
Enroll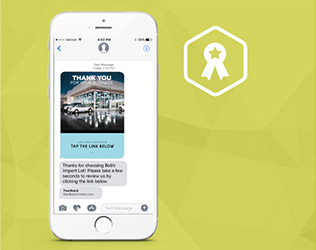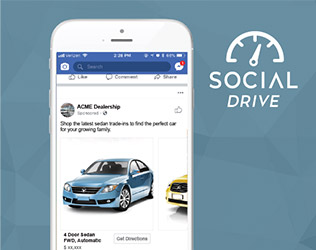 ---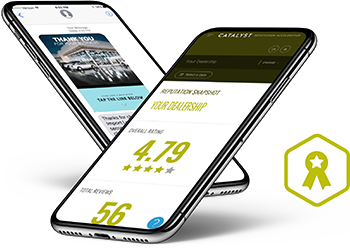 Reputation Accelerator
Send review invites at the point-of-sale to finish your customer experience, or use our data integration feature to automate your invites to send at a later time. Our mobile app makes it quick and easy to get happy new customers leaving reviews without being stuck at a computer. Our software captures negative feedback before it appears on your reputation sites, and collects it in one place for you to review at your convenience.
Our Response Console provides hourly review site monitoring to keep you informed, and updates you with customizable alerts for any new reviews or feedback. Reputation Snapshot makes it easy to see where you stand across all of your review sites. If you want a closer look, our detailed reporting helps you see which of your reputation sites need more attention.
Review Response
Our response service helps you stay on top of your reviews by responding within 24 hours, 365 days a year, including weekends and holidays. As a preferred Yext partner, we can manage your reputation listings for consistency and accuracy across dozens of sites.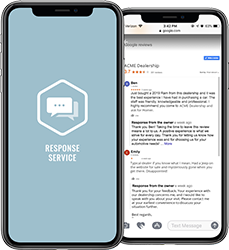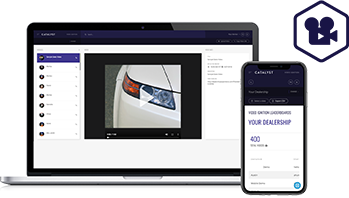 Video Ignition
Facilitate customer communication using our new technology that allows you to record and share private YouTube videos with customers via text or email. Entice prospects with personalized videos of vehicles they are interested in. Improve transparency with your Service Drive customers by showing them problems uncovered during routine maintenance, or update them on repairs. Personalized reporting dashboard tracks which employees from your dealership are using the app.
Content Fuel
Capture customer and product photos, videos, and success stories from our mobile app. Photo and video release forms are built into the app to ensure consumer permission before posting to your social media pages. Capture content from multiple locations and users without the need to access dealership social media accounts. Connect Content Fuel's RSS feed to any major publishing network to take the hassle out of social posting.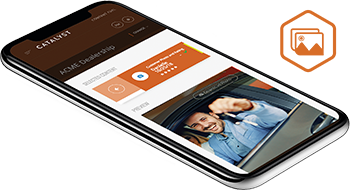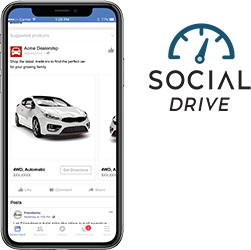 Social Drive
Live inventory feeds are updated daily and are 100% automated. Dynamic re-targeting uses your website traffic to form custom audiences. Lead generation ads allow you to reach customers who have engaged with your website or are currently in-market to purchase. Friendemic will integrate these leads into your CRM as well as send them by email for real-time updates. Showcase your used inventory through our automated Facebook Marketplace Listing solution.