Transform the way you connect with today's car buyers by using the most comprehensive automotive messaging solution on the market. With ActivEngage, your dealership can have conversations across all your digital channels that increase engagement, leads, appointments and sales.
Compare Packages
Set Up a Demo
Enroll
---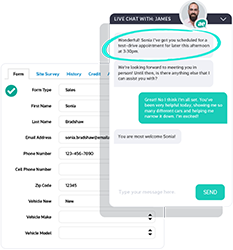 Utilize an Automotive-Specific Messaging Platform
ActivEngage's web-based platform is your hub for all digital conversations. Features like PreRead™ and Lead Form AutoFill help your team's efficiency, while Chat Transfer and Lead Routing offer a seamless experience for you and your customers. And, all chat transcripts and lead information are sent directly to your CRM for streamlined, effective follow-up.
Never miss an appointment! Be notified of your traffic from messaging channels through ActivAlerts
On average, 26% of ActivEngage appointments result in a sale. With ActivAlerts, you're the first to know when a hot lead is headed to your showroom. Your management team will get SMS notifications every time we set an appointment on your behalf.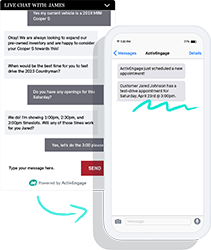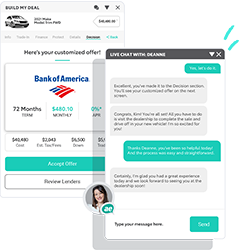 Efficiently Move Customers Down-Funnel with RetailSync, Our Digital Retailing Integration Tool
Add messaging to your digital retailing tool for a guided online car buying experience! Our professionally-trained team (or yours) can help move consumers down-funnel by answering questions in real-time and building buyer confidence that increases completion.
Add Fully-Integrated Messaging to these platforms:
Darwin Automotive
CDK Connected Store
Roadster Express
Cox Automotive Digital Retailing
And more to come! 
Drive Revenue with your team or ours! With People-Powered Managed Messaging we can back up your team or take it all the way. 
Whether you choose ActivEngage's 24/7, fully-managed messaging or one of our co-managed options your customers are in good hands.  Our highly-trained and well-vetted Customer Engagement Experts convert an unmatched percentage of conversations into qualified sales opportunities. We focus on gathering lead details that helps your team close quickly, increasing appointment show rates, and raising overall revenue while leaving a lasting impression.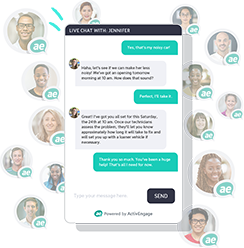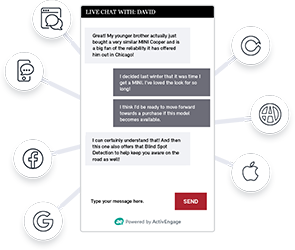 Streamline Communications through All Your Digital Channels and deliver a consistent customer experience
Shoppers want to be able to connect with your dealership on their own terms, and with ActivEngage they have the freedom to do just that. Keep a consistent tone of voice and offer expert customer support at every touchpoint.
Always be available through:
Dealership Website
SMS Texting
Facebook
Google
OfferUp
Autotrader
Apple Business Chat
Don't forget Service Revenue! Increase Appointments with Integrated Service Scheduling
Through integrations with today's most popular service scheduling platforms, our team of experts not only sets service appointments on your behalf, but we also increase show rates and raise repair order revenue by 30% on average.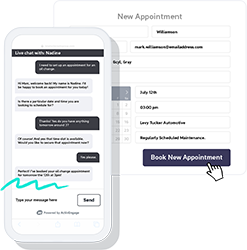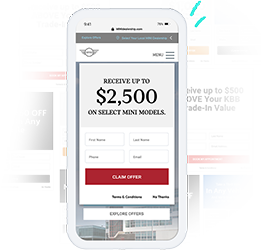 Target Shoppers with Behaviorally-Driven Incentives
Supercharge your website with our conversion accelerator. ActivTarget uses AI and visitor data to serve up behaviorally-driven offers that engage the right buyers at the right time. The best part? There's no lead cannibalization; you get more leads that close at the same rate as other web leads (sometimes higher).
Get Dedicated, Assigned Account Specialist to make the service work for you!
Quick Access to support is vital in a changing industry. Need extra support online for a week? Want to drop down service to have some staff in dealership take part? Level up or down your service, add products all with a quick call or email. Our customer support team is available at the drop of a hat to address any needs you may have and answer all of your questions. Additionally, this person will be in regular contact with your dealership to discuss best practices, monthly statistics reporting, and analyses with recommendations to optimize your results.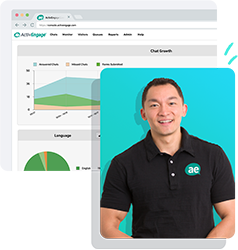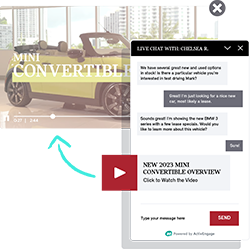 Engage Shoppers through MyDrive Video Test Drives
When inventory is low, you need alternative ways to pique car shoppers' interest. Engage and excite more customers with new vehicle test drives videos directly within chat conversations.
Quickly Share Vehicle Details with Carfax Vehicle History Reports®
With our Carfax integration, shoppers can learn more about the pre-owned cars they are interested in, and your dealership can build trust by being transparent about the vehicles you're selling.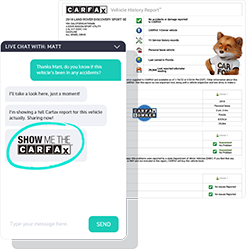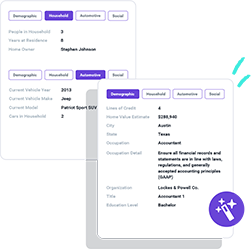 Understand Your Customers Fully with DataWise Analytics
Expand upon your leads in a snap and quickly assess their possible purchase scenario. We have the ability to automatically cross-reference leads against a proprietary repository to verify and/or import applicable prospect data such as additional contact info, automotive details, demographics, and even social media profiles.
Harness a Shopper's Buying Power with QualiFi Soft Credit Pulls
Access shoppers' live FICO scores, auto tradeline information, current loan payments, and more. With QualiFi, our team (or yours) can facilitate prescreens through one of our credit service partners and drive more qualified customers to your store.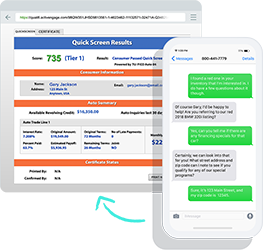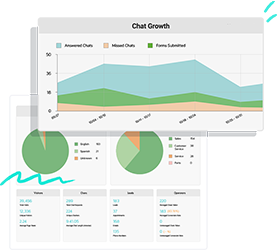 Stay in the Know with Reporting & Analytics
Keep track of your dealership's digital success within the ActivEngage console. Our platform allows you to gather and monitor data, such as the number of conversations had and the number of conversations converted within a specific time frame. You can even see what your most-asked-about vehicles are!