LivePerson Automotive (formerly known as Contact At Once!) has an all-in-one platform—including chat, text, video sharing and messaging management—that works across devices and almost your entire digital network (including Apple Business Chat, 3rd-party ad publisher sites, Google search results, Facebook Marketplace, etc.). This helps you easily have more of the conversations that sell cars AND provide a better overall consumer experience, sales to service.
Learn why16,000+ businesses rely on our solution AND why 96% of surveyed dealers who use our platform say we help them sell more cars.
Compare Packages
Set Up a Demo
Enroll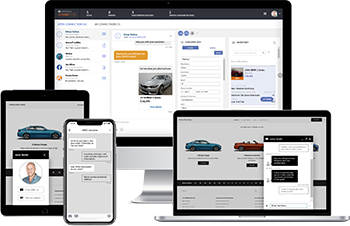 ---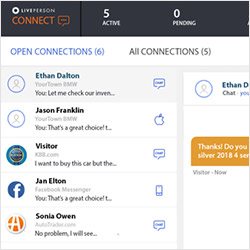 HOWEVER Consumers Want to Connect
Chat, Text, Video
Engage more website visitors AND stay connected with them longer, from initial sales interest to scheduling that 30,000 mile service! Let them chat or text from any device, so you can influence decisions at the very moment they need advice. Even better? You can...
Record and text personalized videos or images (or share via chat).
Send permission-based text messages to re-engage previously unresponsive leads.
Share inventory, vehicle history reports, KBB valuation tools and more right in the conversation window.
Keep track of every conversation and lead data (including CRM integration).
WHENEVER Consumers Want to Connect
Messaging Made Easy
Be there for consumers...even when your sales team's not. LivePerson's Live Advisors can manage incoming conversations for you as needed. These messaging experts will start building the customer relationship and can even forward live conversations with the hottest buyers to specific staff members for quicker closes..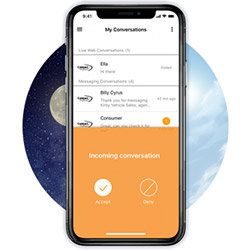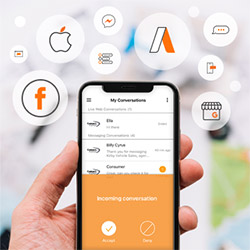 WHEREVER Consumers Want to Connect
Do It All Here
With LivePerson Automotive, your connections don't stop at your website. You can register for an Apple Business Chat account with us, rely on us for Facebook and Google My Business messaging, tie in Google AdWords click-to-message ad extensions, print ads - even your third-party ad listings may offer LivePerson Automotive / Contact At Once! options. That means...
More connections, more conversations, more sales and service opportunities.
Consolidated reporting.
Easy integration with many tools you may already use (our open platform is always adding new connections).
Manage messages from all those locations in one place.
And Don't Forget About the Service Drive!
Do It All Here
Our service messaging solution (offered as stand-alone packages or add-ons) provides enhanced, DMS-integrated two-way texting with video/picture attachment and mobile pay capabilities. Service advisors can manage the experience with this added convenience, decreasing phone calls and increasing retention, productivity and CSI scores.
Capture opt-in permission as part of the service order form (99% opt in).
Increase additional job approvals 41% with texted updates that include images or videos of the additional work recommended.
Let customers know their vehicle is ready...and offer a mobile payment option.
Send simple CSI follow-up texts that have helped dealers improve scores up to 11 points.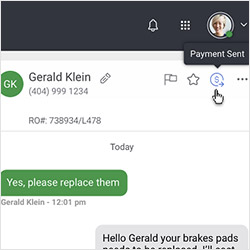 Be There Every Step of the Way
LivePerson Automotive (formerly known as Contact At Once!) is the chat/text provider who can tie all your touchpoints together in a single messaging platform. In other words, people can chat or text with "you" in every step of car ownership, nurturing customer loyalty. It makes you stand out by being so easy to do business with!
More connections. More conversations. More sales and service opportunities. All made easy for you.