Dealer.com Advertising
Dealer.com Advertising makes it possible to influence consumer demand at every stage of today's digitally-driven shopping process. Integrated ad campaigns use advanced data-targeting and advertising fraud prevention capabilities to reach likely in-market buyers across paid search, display, social and video channels. No other advertising solution that is as efficient or effective.
Compare Packages
Set Up a Demo
Enroll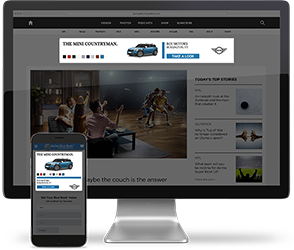 ---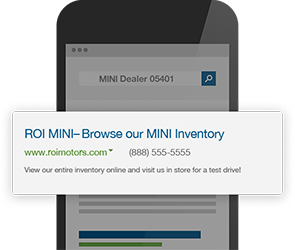 Paid Search
Capture more demand with award-wining search solutions.
Dealer.com Paid Search, the foundation of your advertising strategy, is the most awarded and most trusted paid search technology in automotive. Fully integrated with your inventory and bolstered by vehicle-specific content for every ad, it's proven to differentiate your dealership and capture the existing demand in your market.
Retargeting
Stay connected to every shopper, on every device, at every moment.
Retargeting turns digital "be-backs" into return visitors. Although the vehicle purchase process is different for every shopper, most automotive shoppers visit multiple research sites prior to making a purchase decision. On average, shoppers visit 5.5 sites during online research before making a purchase.* Dealer.com retargeting retains shoppers interest and drives them back to your virtual showroom. If your salespeople would follow up with anyone who visited your physical showroom, why wouldn't you do the same for your virtual showroom.
* Source: 2017 Cox Automotive Car Buyer Journey; 2017 Autotrader Emerging In-Vehicle Technology Study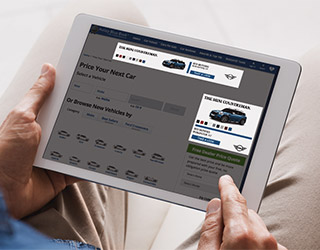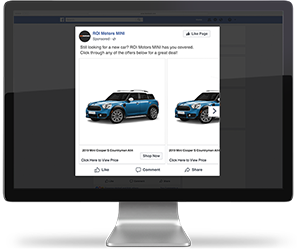 Social Advertising
Extend your reach and connectivity through the power of tailored and targeted social media campaigns.
Dealer.com's Facebook Advertising solution is tailored for automotive. These campaigns are aligned with your specific sales strategy with ads that are deep-linked to your inventory. Ads are generated dynamically based on customers' interests and behaviors on Facebook, whether they have visited your website before or not, actively influencing their path to purchase.
Video Advertising
Build brand and inventory awareness with engaging video advertising.
Dealer.com Video Advertising gives you the ability to build brand and inventory awareness in your market in a dynamic and engaging format. Shoppers who view video are 1.81x more likely to purchase than non-viewers1and have an average click-through rate (CTR) of close to 2%; one of the highest click-through rates of all digital ad formats. People who watch your video for 3 seconds or longer have a CTR of 8%.2 Dealer.com Video Advertising campaigns can align with your specific sales strategy, in multiple formats, available on both mobile and desktop devices.
1 Source: Source: 2013 Google Study "Digital Drives Auto Shopping"
2 Source: Internal Dealer.com Data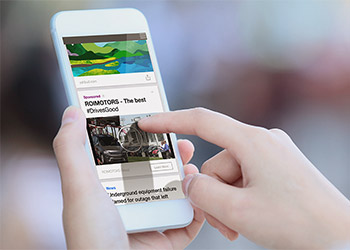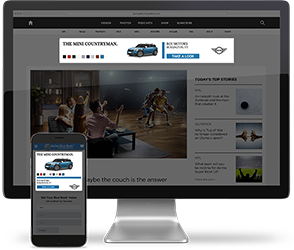 Display Advertising
Accelerate demand with breakthrough data-targeting technology to influence the right shopper at the right time.
Powered by the industry's most innovative data-targeting and fraud prevention technology, Dealer.com Display captures and generates new customer demand more effectively than ever before. Our technology works by connecting your website and inventory with every major digital advertising exchange, extending your reach and driving shoppers to your dealership.
Digital Advertising Strategy
Performance measured and enhanced through strategic collaboration and data-driven strategies.
You're never on your own with Dealer.com. Our teams proactively partner with you to create a custom strategy that drives results for your dealership. Our digital strategy tools utilize Cox Automotive industry-exclusive data, leading Polk automotive statistical data from IHS Markit, and previous campaign performance to generate data-driven digital marketing strategy. Your sales data and dealership goals further enhance this strategy, creating a complete marketing plan that is optimized for both reach and ROI. Once your campaigns are underway, dedicated Digital Strategists monitor them closely, optimizing for results and providing detailed monthly insights and recommendations.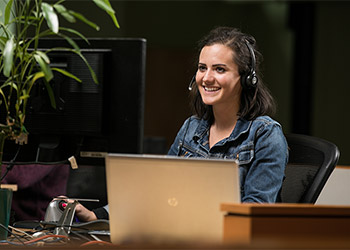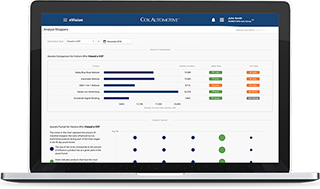 Advertising Analytics
Results proven by transparent reporting.
Dealer.com Advertising analytics data is dynamic and accurate, giving you the clearest picture of how your advertising campaigns are driving traffic and conversions from one centralized hub. Our Comparison Tool allows you to analyze, overlay, and filter advertising metrics, clearly charting the return on your investment. You can analyze how your investment increase affected your click-through-rate, or how many conversions an increase in impressions provided. Our assists and attribution reporting allow you to see how each of your digital advertising efforts contributed to your overall success.