J&L Marketing dominates your market by out-performing and out-smarting the competition. We are better at utilizing technology, better at strategy and better at communicating than any other marketing partner you have had before. Being selected as a Google Premier Partner for 2022 proves it.
Every aspect of what we do is focused on one thing: Results! Our superior results are a product of how we use your customer data to reach current and potential customers in the most cost-effective and engaging way. Let us Out-Smart your competition so you don't have to Out-Spend them!
Compare Packages
Set Up a Demo
Enroll
---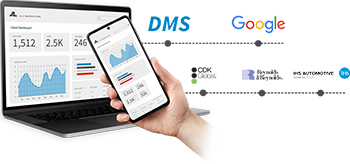 Deep Data
Deep Data Integration identifies who we target, when the right time is, and how we motivate them to respond. Customer data is a business' most valuable asset. J&L Marketing provides our clients with strategy and tools to effectively use their customer data to consistently increase sales and customer retention. Our Premier Partnerships support and provide invaluable data to drive deep strategies.
Complete online analysis to discover exactly what your competition is advertising
Target previous customers on Google paid search, even when they don't search for your dealership or your brand
Win back inactive customers on Facebook, Gmail and on over 2 million websites
Utilize the most advanced audience targeting methods to deliver higher quality leads
Dynamic data driven programmatic campaigns
Data is protected and backed by a $10 million cyber liability insurance
Campaign Structure
Our unique Omni-Channel approach aggressively targets your audiences across multiple platforms, screens, and experiences. Our campaign structure enables us to make adjustments to specific keyword sets to more efficiently use your marketing dollars. From new to used, specific models, or geo targets, we ensure each campaign is optimized to deliver maximum results with maximum efficiency.
The most comprehensive paid search, display and social advertising strategy persuades more customers at a lower cost per conversion
Utilize dynamic search and display advertising for higher click through rates at a lower cost
Reach consumers during critical decision-making moments
Improve your customer's experience by making it easier and faster to call you, text you and email
Leverage the power of video to engage consumers with sight, sound, and emotion. Drive stronger awareness, call to actions, and overall brand equity.
Persuade consumers with highly relevant and effective ad copy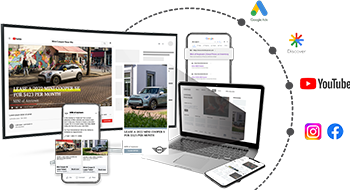 Attack & Defend
Our Attack and Defend Digital System is the absolute best way to own your market and increase opportunities. ATTACKING new sales opportunities in the market and DEFENDING your previous customers from the onslaught of competitors' advertisements. We out-smart your competition by segmenting your target audience, efficiently and effectively utilizing your marketing budget.
Premiere Partnerships
J&L Marketing has been recognized as a Google Premier Partner. The strategies we implement have helped us achieve this long-term goal. Each of our partners serves a strategic purpose, but they all revolve around one thought: They help us help you!
Google Premier
CDK Global
IHS Polk
Meta Partnership
Reynolds and Reynolds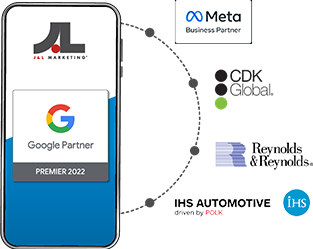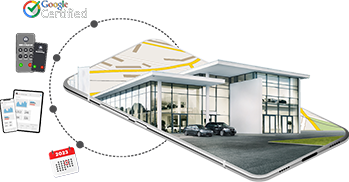 Powerful Performance
Deep Data and an Omni-Channel Strategy are crucial to success. Equally important are the optimizations, strategy flexibility, and budget reallocations provided by experts. J&L provides industry expert Google Certified Analysts who know your business and live your campaigns, providing the truly hands on human interactions needed to make the data perform!
Google Ads Certified Digital Marketing Analysts allow you to effortlessly optimize your digital marketing strategy and results
Weekly touch point email, ensuring a unified partnership and approach with constant formative assessment
Continuously monitors your competition so you can frequently enhance your strategy
Monthly optimization meetings
Have confidence your digital marketing produces a high ROI with a 24/7 real-time online dashboard